During summer 2017 I decided to apply for the TGO Challenge 2018. The challenge invites to cross Scotland from the west to the east coast within about 15 days - All self supported, by foot and mostly wild camping, on the route you choose...
23.05.2018 St Cyrus
From Tarfside the river North Esk is leading naturally down to the east coast, where it ends between St Cyrus and Montrose. But before it passes through valleys and impressive gorges - like here at Rocks of Solitude.
Later on agriculture is dominating the flat land between the hills and the shore.
And all the sudden, I find myself on top of the cliffs at St Cyrus, with a gorgeous view over its beautiful beach... just a last climb down the cliffs in order to complete the challenge!
I enjoyed every single one of these 280km across Scotland, discovering the country and having a great time with all the Challengers I crossed on my path! Many thanks for all the company and shared moments!
21.05.2018 Tarfside
From Loch Callater Lodge I follow the Jock's Road into the mountains. A long day with pathless terrain and the ascent to Broad Cairn (998m) all under a heavy wind!
Finally arrived at Shielin of Mark, where I pitch my tent near the bothy. Nice evening in the bothy with the other about four challengers around.
From Shielin of Mark it is another short ascent before it goes down to Glen Lee with it's Loch, and a nice walk through the hills to the first small village of the valley: Tarfside.
Lots of Challengers pass through this spot, therefore the village green gets busy for a few days...
19.05.2018 Loch Callater Lodge

Walking out of Aviemore I came across Loch an Eilein - hard not to stop here for a decent long exposure photo shoot...
Through forests and bogs finally the valley narrows down into Glen Feshie, a beautifully remote and wild place!
What gives the character to this glen is its pine forest, with all these old trees withstanding the harsh environment and the powerful river reshaping the scenery every spring.
At the end of Glen Feshie you come to a devision, and follow down Geldie Burn on the other side. Geldie Burn runs into River Dee further down, where I camp Friday night.
Via Mar Lodge - where I pick up my food resupply - I pass through Braemar, having an excellent lunch and buy a second gaz canister. Finally ascent to the Loch Callater, with a great pasta, beer and whiskey time at the lodge!
16.05.2018 Aviemore
Another hill to climb, but this time on the Burma Road which runs entirely over the hill and down into Aviemore.

Over the pass the view opens to the Cairgorms, which I will pass the next days, still direction east coast!
15.05.2018 River Dulnain

Another beautiful sunrise!

Walking out of Glen Mazeran which runs into river Findhorn. Crossing this river here before walking up the hills again...

On the other side I follow a small canion down to river Dulnain.

In the heavy wind blowing down the valley I decide to pitch in the shelter of this eroded earth wall. But after a short rain in the evening the night was calm.
14.05.2018 Glen Mazeran

Crossing the Loch Ness this sunny morning is a real pleasure! Plus the stories from Gordon the skipper...

There is a long bit of road to do before I finally start the ascent into the hills. Green plains full of sheep!

In the upper part of the hills the dirt road ends and I have to navigate through this odd landscape of bog with little canions washed out by errosion here and there.

Finally walking down into Glen Mazeran with its meandring river - my camp for tonight!
11.-13.05.2018 Drumnadrochit
The start could not have been more beautiful! Loved the almost alpine character of the glens at the west coast. The weather added his own drama with changing conditions and heavy blowing wind...
Great discussions while walking together with Bob who is on his 10th crossing, looking forward to celebrate with you!
Leaving first camp ground under bright sun shine, which does just so much for the motivation :)
This day all the rumors about Scotish maps became real: First time lost somewhere in a bog as the path disappeared... compass, some climbing and great cameraderie (thanks Peet for the nice walk!) helped us out.
It was hard to find a small piece of land to pitch my tent on in this boggy and water soaked land around Loch na Beinn Moire, but I was rewarded with beautiful views and a nice sunset...
After a long hike through many different kinds of forests and glens, this afternoon I arrived at Loch Ness - Time for laundry and a black Loch Ness Beer
10.05.2018 Shiel Bridge
It was a very short timing to get to my start point, but the train and bus ride went well on schedule! What's more, the 5 hours on the bus was one of the most scenic roads I've ever traveled... a beautiful preview of Scotlands landscapes.
Now getting ready for tomorrow with the good treat of a local black beer.
10.05.2018 Edinburgh
Just passed one night in Edinburgh, got my gaz and am ready to go! Last duty: drop my parcel with unnecessary stuff in Glasgow.
And: The sun is out! :)
09.05.2018 Ready to go!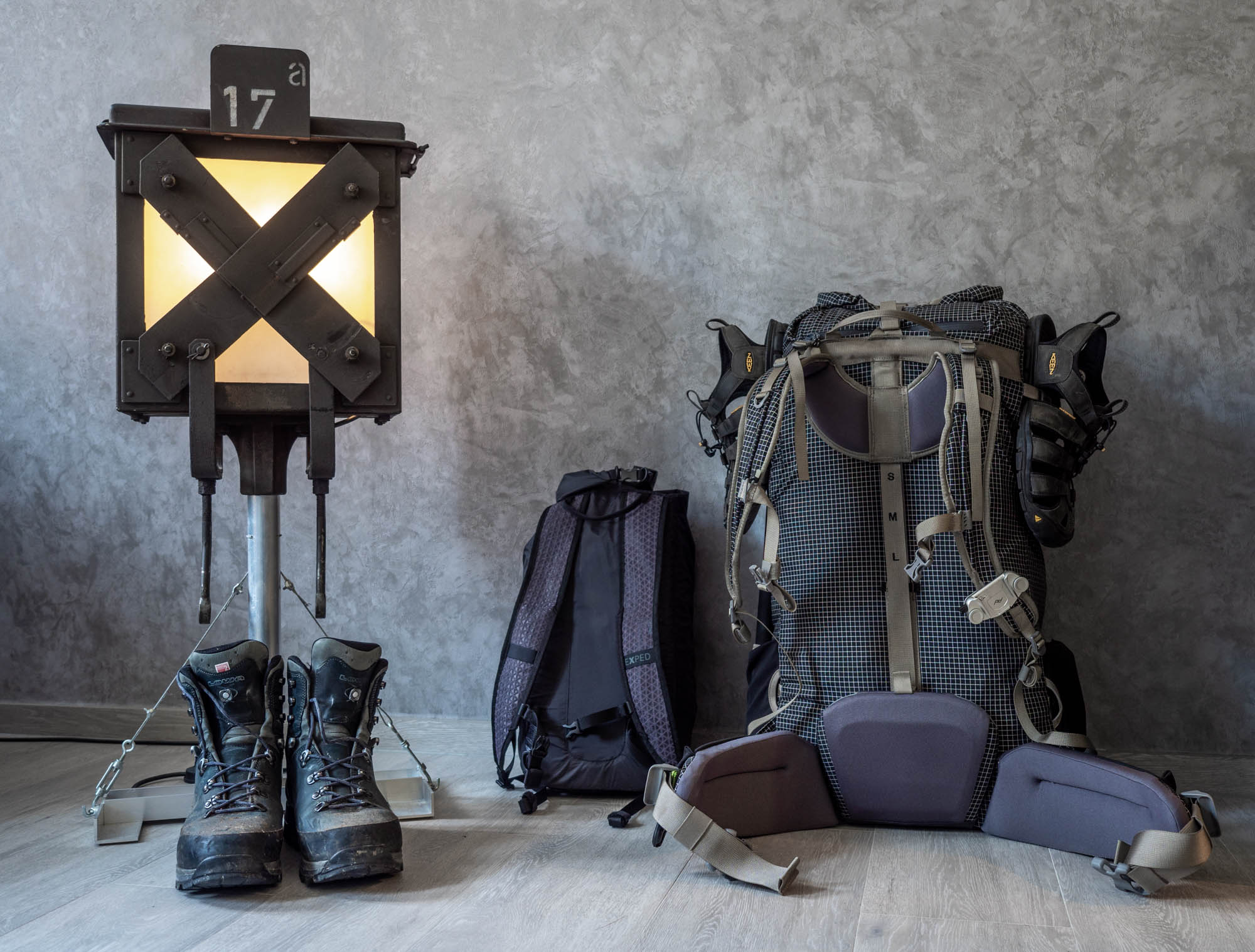 Just in case you have some questions :)
No, the lamp is not part of my gear (a pitty though for the cosy evenings in my tent...)
Yes, I got two bags - but the small one will make the crossing by Royal Mail
07.05.2018 Gear and food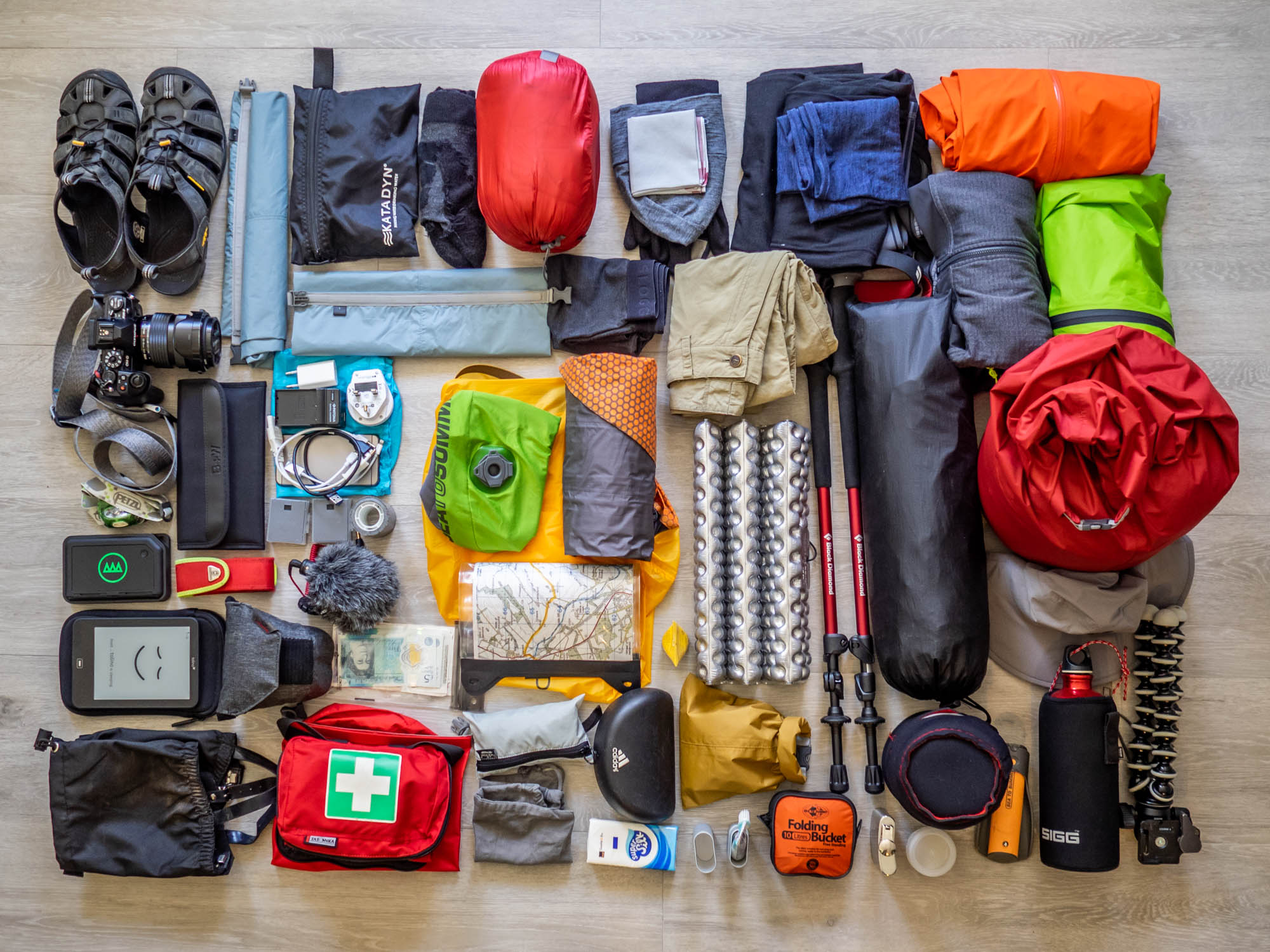 After some last minute tweaking of my gear list I finally pushed my pack's base weight below 10kg! (Everything without consumables like food, water and gaz, and I didnt count my camera equipment either [1]) That was the good news... then reality breaks in and adds another few kg of equipment and food on top! Therefore I'll have a rough start with about 17-18kg on my back - with all my food for the first 8 days.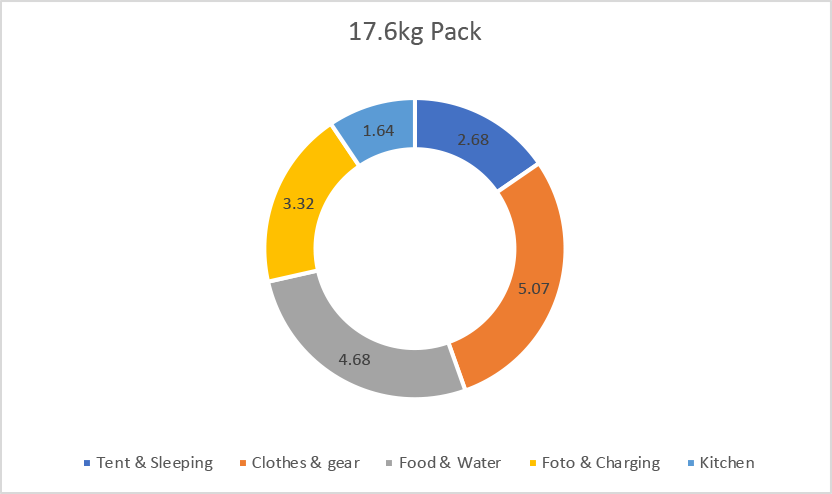 Actually I kind of underestimated the weight and volume of food along the route, and would have posted a second supply package on my way (too late now). But as always one's more intelligent afterwards - I take it as a good reason for applying to another Challenge in the future ;)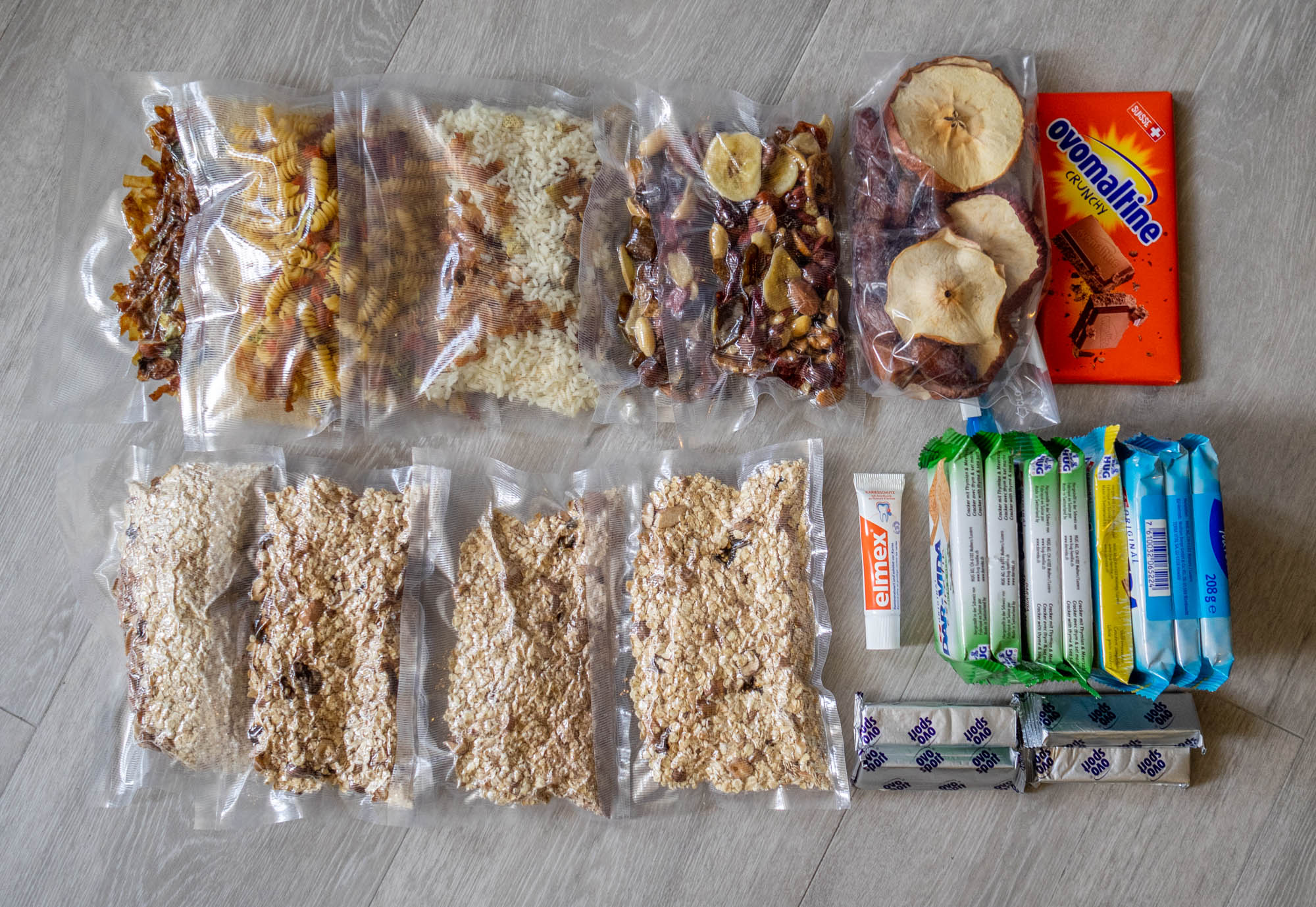 Speaking of food resupply: Here's my about 2kg of meals already on their way to Scotland!
05.05.2018 Meals ready

The goal of the day is reached: All meals for the Challenge are assembled and packed under vacuum for the journey. Some last vegetables and a portion rize had to be cooked and dehydrated, the rest had been prepared over the last weeks and was ready to be packed.
What's a trecking without a great home brewed meal at the end of the day?!
29.04.2018 DIY pot cozy
I always complained about my cooking pot to cool too fast. And, with the idea to use dried food on the Challenge I'd like to boil water, and then let the food just soak in the water - which works great if the pot keeps the heat, and saves gaz at the same time...
These days I finally orderd some Neopren and stitched together this last minute gear: Works great in the lab test ;)
Many thanks Brian for his inspiration on the topic!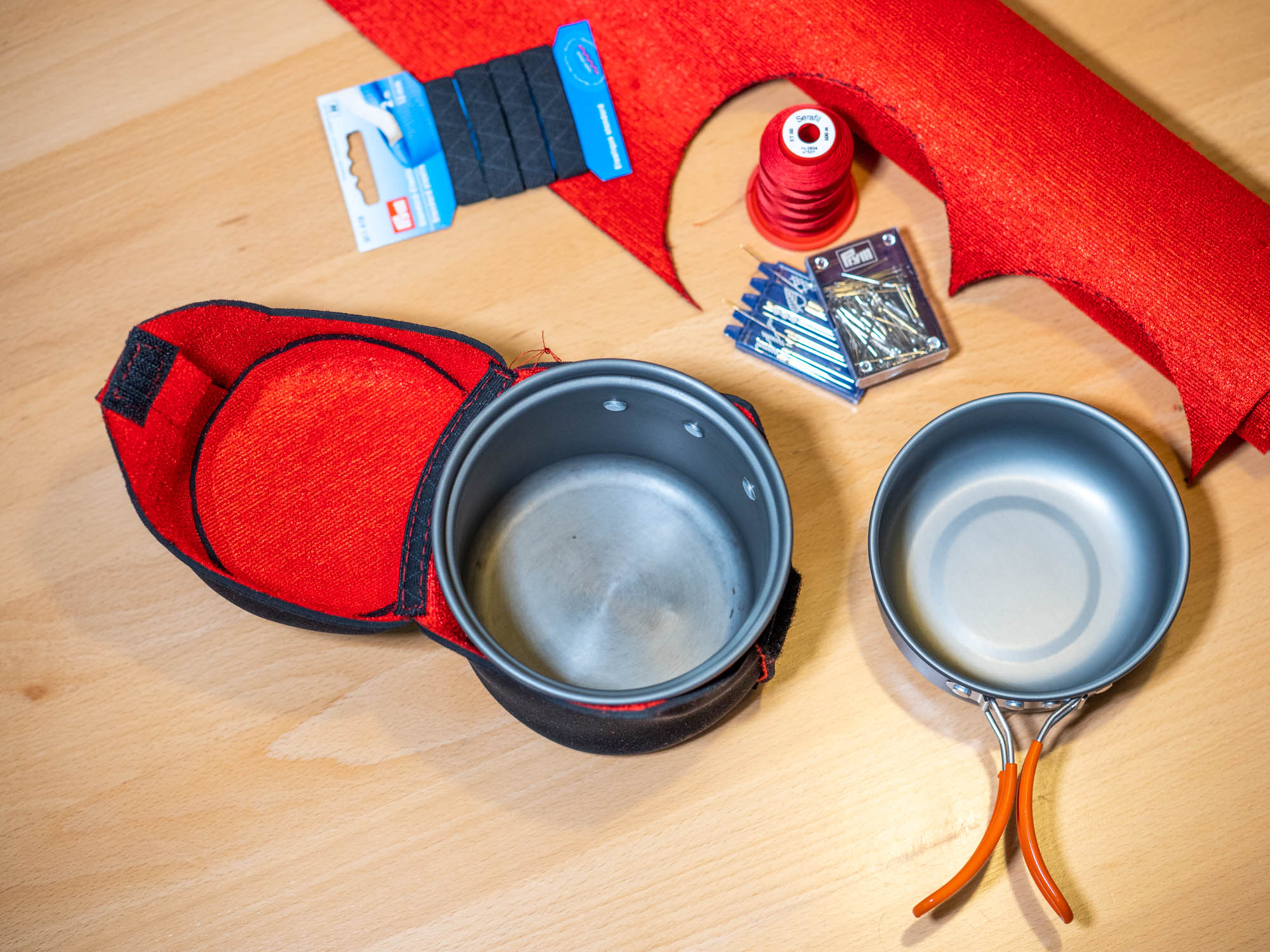 Winter & Spring training
Parallel to the route planning I sorted out my gear, sold some old stuff and invested in more weather proove or lighter peaces of gear. Finally in March I had everything together and started getting out in the wild, getting familiar with the new gear and testing it out at below freezing temperatures...
First camp with the new Tarptent Notch
First camp with new As Tucas blanket
15.01.2018 Route accepted!
The Challenge control takes the route vetting very serious and returned me pages of recommendations, alerts about cunstruction work on roads and requests for foul weather routes.
But eventually after some back and forth I had the Go for my planning!
27.12.2017 First feedback on route planning
It is one thing to plan a hike with Swiss topo maps on more or less known terrain, but to find a route crossing Scotland (I've never visited so far) from west to east coast... was already an adventure on it's own.
But I tried to compile a route with a moderate start and some more demanding and wild stages every then and when.
01.11.2017 Application accepted!
What to say? Probably the best news I had received in a while!
15.09.2017 Application
While preparing for my treck through Yellowstone in 2012 I strugled the first time over the existance of the TGO Challenge, but classified it as one of those crazy things to be done in another life...
In summer 2017 the Challenge comes back to my attention, and a bunch of trecks and wild camps after 2012 this time the idea is tempting to accept the "Challenge"!
---
Yes, that's what you would call cheating ↩︎